Peripera's Tint I Ever Try
Starting from the left side: Ink Gelato, Ink Velvet, Water Tint, Ink Airy Velvet, Ink Moist
Finally! I took some time to think about whether I should come out with this post or not. The picture above was taken on last January. See? After 8 months of procrastinating 😴 tapi at least sekarang dah ada mood kan 😜
Even though Anis memang suka sangat dengan lips products, but I'm not really sure the correct terms to describe those porducts so please excuse me 😶
1) Peripera Ink Gelato
Gelato Tint is one of the newest items by Peripera at that time (towards the end of 2018). As someone yang memang follow update from Peripera mestilah nak sangat to have this as soon as possible after diorang launch. I never had a bright tone of red tint before, so decided to purchase Ink Gelato #1 Lively Red, Peripera team describe this colour should be as red as apple 🍎
Other than this, Peripera also claims that this Ink Gelato:
have a new texture for a flawless gradient lip
it will effortlessly melt into lips with an airy finish
have intense colour that won't transfer which is it has ink-like lasting power
Need to approve those! It does give an airy finish, believe me, you feel like there's nothing on your lips! The colour does not easily transfer unless you wipe them harshly 😯 I don't remember how many hours does this tint stay on my lips 🤦‍♀️ tapi kalau time belasah makan kenduri, hidangan pulak kesemuanya berminyak teruk, yes the colour will fade 😷 just put some more back okay 👍
2) Peripera Ink Velvet
Who doesn't know about their best selling product, Ink Velvet ?! I cannot remember on which year Peripera launch this line, maybe in 2015. Ink Velvet is not really considered as a lip tint, it is a liquid lipstick. The texture is quite thick to be called as a tint. For now, Ink Velvet got already 23 shade, those shade were released when the season changed. Korean do love to use a different shade for every different season, that's why we can never catch up when there are new item 😒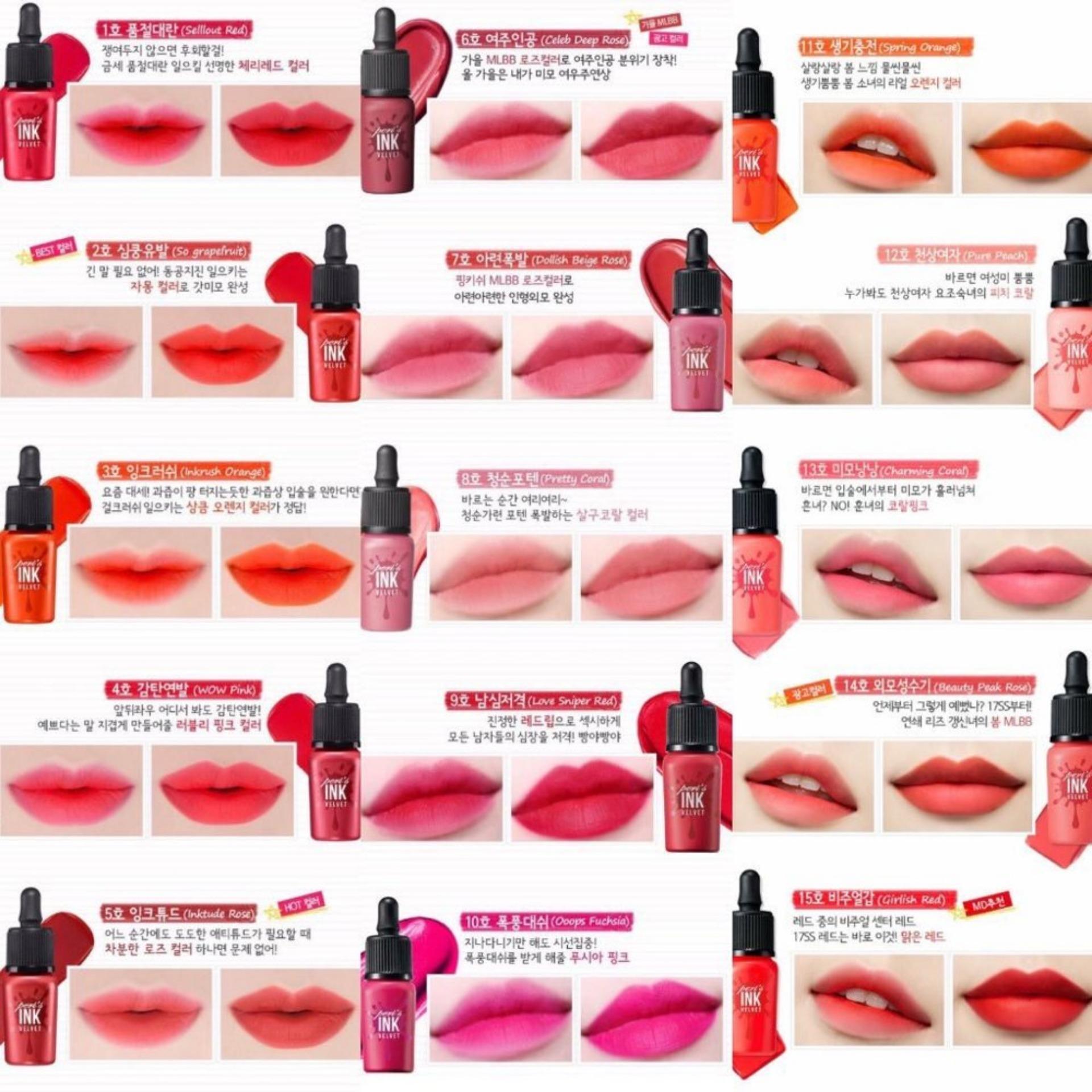 3) Peripera Ink Airy Velvet
After Ink Velvet becomes famous, then Peripera challenges themself by creating a new kind of formula for their lip products. Thus, Ink Airy Velvet was born 😍 this tint was known for their texture just like velvet petals with beautiful colours. To be compared with Ink Velvet, I think using Airy Ink Velvet is better to make gradient lips 🙌 and right now there are 18 shades available for this line.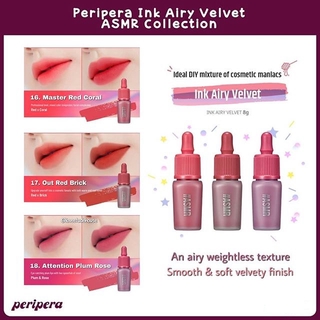 So now let's take a look at differences between Ink Velvet and Ink Airy Velvet based on the information given by Peripera Team.
Airy Ink Velvet surely less intense than Ink Velvet as the texture is very light, the colour is so natural on lips. I just don't like all posters of colour swatches given by Peripera since those colour cannot be trusted, you need to try by yourself if you don't want to cry later 😝 For me as someone with kinda light skin, will not really mad at those products if I just buy them before testing them first since I think my skin can match variety of shade but please not the fuchsia one 😵 forget to mention for longevity, Ink Velvet last longer than Ink Airy Velvet.
Ink Airy Velvet range colour 6-10 paling korang jangan trust gambar poster tu! Most of it are not as bright in the poster
4) Peri's Ink Moisture
This product is way longer in the market, even before those
Peripera Ink
(Ink Velvet, Ink Airy Velvet, Ink Gelato, Cloud Ink Velvet)
line. I still remember this is the second tint I purchased in my life. It was back in December 2015 and I was 17 🙊 a broke young girl buy a tint that worth RM30+
What I know now, Peripera already changes the design for this Ink Moisture, but the content is still the same. Unfortunately, this range only comes up with 5 shades, maybe they will no longer continue this line? I don't really know but surely I couldn't find any Watsons selling this or maybe you can fly to South Korea to check 😜
I still remember how good this product is, the longevity and pigmentation is no doubt! Even after using makeup remover, there will be a stain on your lips. Forget to mention, that one in the picture is #4 My Type.
the new look of Peri's Ink Moisture
5) Peri's Tint Water
So sorry for this ugly photo of my tint water, since this is the first tint I bought,
4 years ago
. I still keep it to the day I decide to take a photo of it, then I throw them away since I need space for newer tint 😝
This tint cost me around RM32, bought it at Watsons near my home. The price might seem not relevant but trust me a bottle of this tint water can last up to 1 year even I'm using it every day. Cannot believe? Maybe it can last longer than that if only tak berlaku kes pertumpahan darah sebanyak 2 kali. So, you guys try to buy one if you get to find this at any store 😭 you will get a natural look bila guna this tint water 😉
Mine was Cherry Juice
Hope this post will haunt you till you buy one of it 😂
Related search: peripera, peripera lip tint, peri's ink, ink gelato, ink velvet, ink airy velvet, best korean lip tint, best lip tint, velvet finish, semi-matte finish, pigmented lip tint, long-lasting tint